Overview of the Barclays AI Frenzy session held in Cambridge on Tuesday 16th July.
The appetite for AI and its business benefits seems to be accelerating by the day with yet another research report into the transformational nature of this technology. AI is therefore sometimes referred to as the 4th industrial revolution, though like any other disruptive technology there are at least some questions worth asking before jumping in with both feet.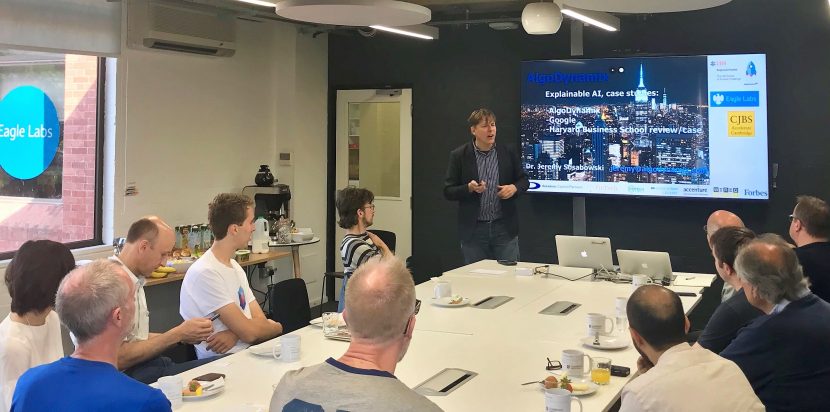 This overview article will therefore delve more into AI details exploring the issues of ethics, explainability and transparency. These issues were central to the Barclays AI Frenzy session held at the Barclays Eagle Labs in Cambridge.
AlgoDynamix CEO Dr. Jeremy Sosabowski presented examples and case studies that illustrated the ethical quagmire that AI presents; – unsurprisingly – this led to lively debates and discussions. Some of the main points are summarised below though, first things first, a few notes about AlgoDynamix and Barclays' quest to become the most AI savvy workforce in the UK, arguably a very good idea indeed considering the dangers of missing out on this wave of disruptive innovation.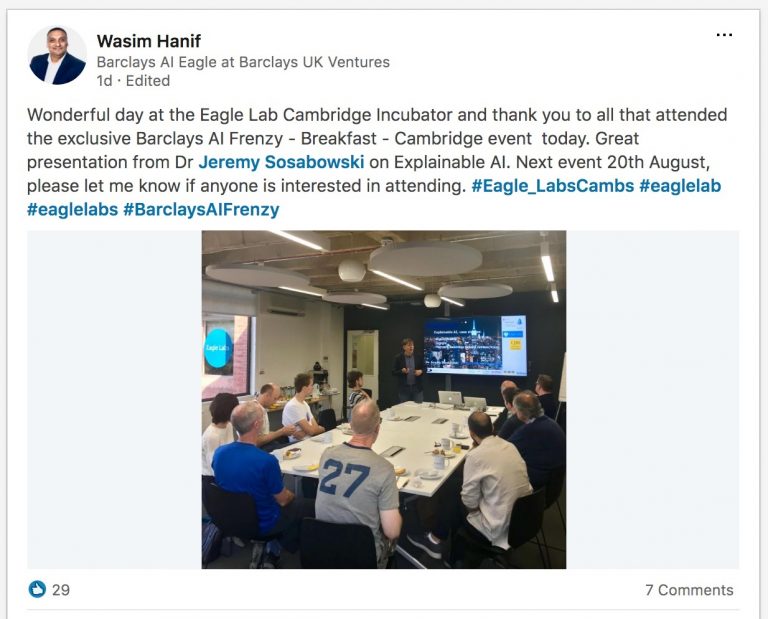 AlgoDynamix has been active in capital markets and asset management industries for more than 5 years and is an approved vendor to major global investment banks around the world. The software is mostly used for front office functions by traders and portfolio managers and not surprisingly the 'how does it work' needs to be addressed before even starting the formal on-boarding process. For those interested in finding out more, the case studies and webinars below provide a detailed account of the AlgoDynamix story. 
Case study 1: client case study with detailed AI overview: Groundbreaking AlgoDynamix risk analytics continuously outperforms the US stock market with full webinar overview. 
Case study 2: on new data sources for ESG and FX risk forecasting analytics with full webinar.  
It is worth emphasising that all of our clients are using it in areas such as trade analysis, trade and impact optimisation, investment & trading ideas and (semi) systematic trading & investment strategies, though in all use cases humans are still – arguably quite rightly! – involved in the final capital allocation or de-allocation decisions. 
So how do other companies go about addressing the detailed technical explainability of their products? For discussion purposes, we also used the example of Youtube (part of Google/Alphabet) and a wider case review from HBS on what the right questions should be in the first place.
In addition to the AlgoDynamix presentation we also had a great audience, with members including: 
Simon Hall, Dr. Antony Rix, Rod Rivers and other AI & ethics specialists including also ongoing contributions from people such as Dr. Ronjon Nag. Thank you to everyone for your great contributions!
Some of the key takeaways from this Barclays AI Frenzy session include:
The explainability of algorithms is somewhat interesting and important though the equally and possibly more valid questions include: what is the input data (public/private/multi sourced?): can this be audited, tracked, traced and controlled? Examples include recommendation engines based not only on browsing history but also on people's social media presence or indeed any other sources off online or even offline personal data points. How transparent and understandable is this data gathering and data utilisation process? 
One of the by-products of highly optimized algorithms is that these can create new types of social and societal problems. Online addiction is one example of these (hopefully!) unintended consequences on Youtube, see longer overview article here: The toxic potential of youtube's feedback loop.
And one of the other main topics covered during this session was around the business use cases and requirements for a highly transparent cost/objective function i.e. what is ideal desired outcome? This isn't always clear or even well defined in the first place!
Putting it all together
So is AI good/bad, transformational, incremental, disruptive? Like with most questions of these broad type, it depends…
One certainty remains, and that is that we must have these broader social and implications discussions. AlgoDynamix is very pleased not only to be an integral part of leading the quest for visibility, transparency and adaptability within financial services but also to share their experience within the investment banking space.
Latest News from AlgoDynamix