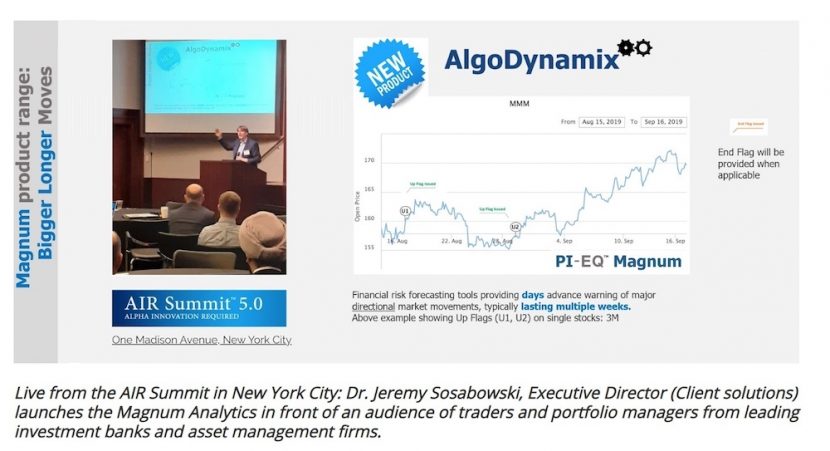 New York, London & Cambridge (UK), Sep 2019. AlgoDynamix launches Magnum Analytics, the brand new directional risk forecasting analytics covering most asset classes providing advance warning of bigger, longer market moves.
Live from New York comes the latest AlgoDynamix Magnum product range. With these new ground-breaking analytics, users can now receive advance warning of the biggest moves shaking the markets. Based on the existing core AlgoDynamix algorithms underlying all the products, the AI technology continually monitors orders from the global financial markets and detects unusual behaviour which precedes truly major movement. While our standard products provide warnings of smaller price changes, Magnum was specifically designed for the bigger, longer market moves.
The Magnum product range was launched at the 5th AIR summit in New York in front of an audience of traders and portfolio managers from leading investment banks and asset management firms.
AIR Summit is the premier community focused on leading innovative technology in the investment management process, also known as AlphaTech. Membership to the AIR Summit is now available to select individuals & corporate partners.  Previous AIR Summit events have attracted global investment professionals representing USD 33 trillion in assets under management.
Newly appointed President North America Sales Ian Hillier Brook was at the launch: "AlgoDynamix have decades of unique, relevant experience in this very exciting AI risk forecasting space; audience interest and feedback, especially for the latest Magnum product, was second to none"
Dr. Jeremy Sosabowski, Executive Director (Client solutions):
"We are very excited to launch the Magnum product based on ongoing client feedback that really allows investment professionals to capture the significant longer lasting market moves, especially relevant for the asset managers with much larger portfolios. As always our Cambridge based R&D team are continuously innovating and delivering new solutions as and when required"
Further details about Magnum analytics are also covered Cambridge Network Waterstechnology (subscription contents) 
Latest News from AlgoDynamix