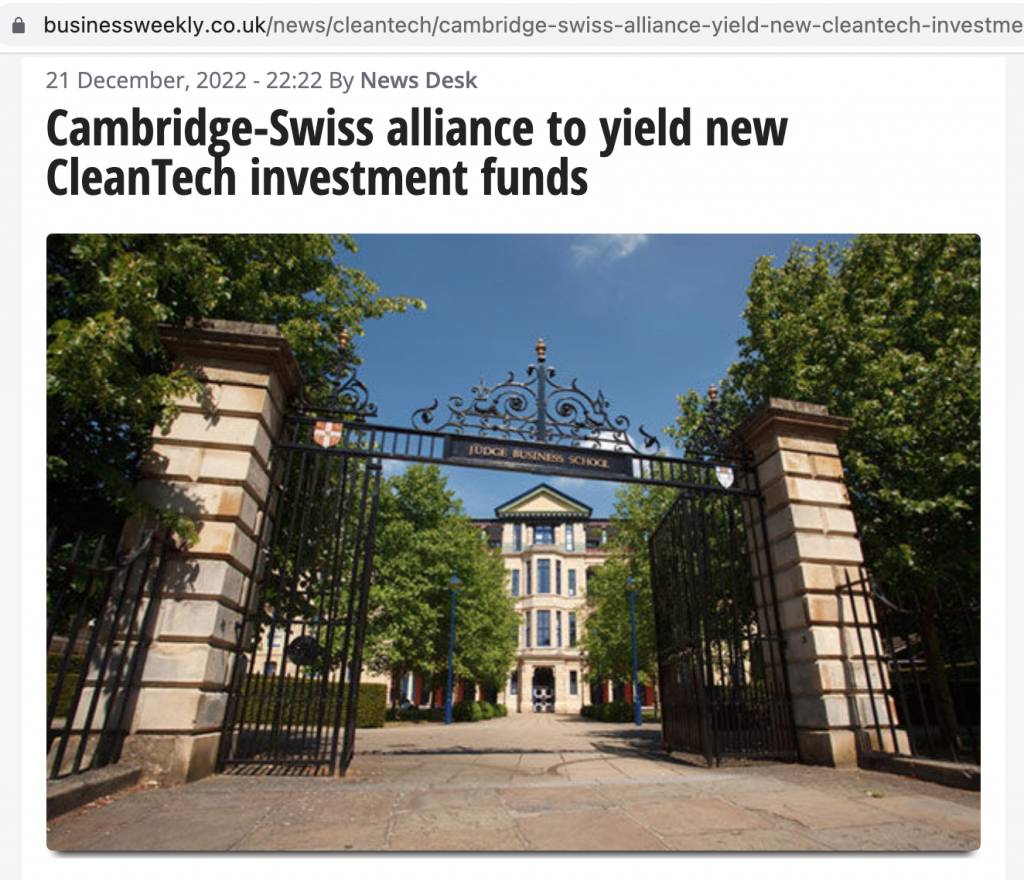 London & Cambridge (UK) and Lucerne (Switzerland), Wednesday 7th December 2022: Sync Neural, the Swiss based holding company that addresses carbon neutrality, has signed a product partnership agreement with AlgoDynamix, the leader in behavioural-based price forecasting for financial markets. New investment products, including a Global Synchronised Impact fund, are expected in Q1 2023.
Sync Neural and AlgoDynamix are pleased to announce their partnership that will include the launch of a brand new Synchronised Impact Fund to address energy, climate finance and environmental governance challenges. Both organisations will combine their decades of respective experiences in impact investing and financial analytics/forecasting to produce what could be the ultimate in terms of new impactful investment products. Swiss based Genesis Advisory and Management GmbH, Investment Manager for Sync Neural Genesis AG, will be running the operational side of these funds. In addition to impact and environmental concerns, these funds will also be providing meaningful monetary investment returns i.e. the very best of both worlds.
Himesh Patel, Founder & CEO at Sync Neural: "global energy and environmental concerns have never been more pressing and as if this wasn't enough, global financial stability and geopolitics continue to create havoc around the world"
Mr. Patel continues:
"We certainly think that we have part of the solution and this product partnership with UK-based AlgoDynamix will be a game changer both in terms of impact AND investor returns"
The Synchronised Impact Fund will invest in several highly relevant sectors including, Mircro-Grids as a service ("MGAS"), Emobility (EV), mobile technologies, public transportation, medical devices and hospitality. Investment decisions, allocation amounts and other portfolio decisions will be augmented by the AlgoDynamix analytics. 
Jeremy Sosabowski, PhD (Cantab), Executive Director at AlgoDynamix: "We have fund partnerships around the world and in many different asset classes, though this is the first time that we will be co-launching an impact fund, a long overdue project considering current global uncertainties!"
Dr. Sosabowski continues: 
"the Sync Neural / Genesis Advisory and Management partnership is the best we could have ever hoped for in this area and we are looking forward to long overdue meaningful global transformation in the investments area"   
Further announcements, including investment memorandums, will be made available in Q1 2023; see also legal disclaimers section. 
About Sync Neural Genesis AG ('Sync Neural', 'Sync'):
Sync is an adaptive form of management that synchronises and harmonises a three pillar structure; synchronised energy, synchronised funding, and synchronised governance designed to fulfil our value proposition Under Sync Neural Genesis. 
Sync is an on-boarding platform for people, policy-makers, renewable energy technologies, environmentalists, and institutions that are working on projects to address carbon neutrality. We take on projects with a cause, a cause that takes our planet, people and technology towards a sustainable future.  
Further information: https://syncneural.net/
About AlgoDynamix (UK) Ltd. ('AlgoDynamix'): 
AlgoDynamix is a pioneer of behavioural based forecasting for financial markets. Its forecasting analytics provide advance warning of major directional market movements but unlike other solutions, the underlying technology does not require any historical data or knowledge of any previous disruptive events. The analytics cover most asset classes, including Equities, Commodities, Crypto and ESG investments. AlgoDynamix started in 2014 with software based on many years of academic research at the University of Cambridge. The company has offices in Cambridge (UK) and London and existing clients include investment banks and asset managers including CTAs, hedge funds, family offices and other managed funds.
Further information: https://www.amadeuscapital.com/company/algodynamix/
Further references: Cambridge Network, Business Weekly
Full PDF Download:SyncNeural-AlgoDynamix-ImpactFund [PDF]
Disclaimer: 
The Information in these sections is provided for information purposes only. The Information is not intended to be and does not constitute financial advice or any other advice, is general in nature and not specific to you. Before using any of the information above you should seek the advice of a qualified and registered securities professional and undertake your own due diligence. None of the information in this document is intended as investment advice, as an offer or solicitation to buy or sell any products or services, or as a recommendation, endorsement, or sponsorship of any security, company, or fund. The above-mentioned companies are not responsible for any investment decision made by you. You are responsible for your own investment research and investment decisions. The companies will not be responsible for updating any information contained within these documents and opinions and information contained herein are subject to change without notice.